Provide good products and services for customers and create continuous wealth and value for the society.
The future is here, the global industrial textile industry focuses on "urban life"-held at Techtexti2019 Frankfurt Exhibition Center
Categories:

News

Author:

Origin:

Time of issue:

2020-04-08 16:37

Views:
(Summary description)The biennial Frankfurt Industrial Textiles and Nonwovens Exhibition (Techtextil) opened on May 14th, local time at the Frankfurt Exhibition Center in Germany. The Techtextil2019 exhibition lasts for 4
The future is here, the global industrial textile industry focuses on "urban life"-held at Techtexti2019 Frankfurt Exhibition Center
(Summary description)The biennial Frankfurt Industrial Textiles and Nonwovens Exhibition (Techtextil) opened on May 14th, local time at the Frankfurt Exhibition Center in Germany. The Techtextil2019 exhibition lasts for 4
Categories:

News

Author:

Origin:

Time of issue:

2020-04-08 16:37

Views:
The biennial Frankfurt Industrial Textiles and Nonwovens Exhibition (Techtextil) opened on May 14th, local time at the Frankfurt Exhibition Center in Germany. The Techtextil2019 exhibition lasts for 4 days, and the textile and flexible material processing trade exhibition (Texprocess2019) is held in the same place at the same time.
The Techtextil2019 exhibition covers an area of ​​60,000 square meters, with 1,501 exhibitors from 57 countries and regions. There are 421 German exhibitors and 1,080 exhibitors outside Germany, with an international level of 70%. The exhibition has pavilions from 14 countries and regions including Belgium, China, France, and the United Kingdom, among which 111 Chinese exhibitors have become the second largest national pavilion after Italy.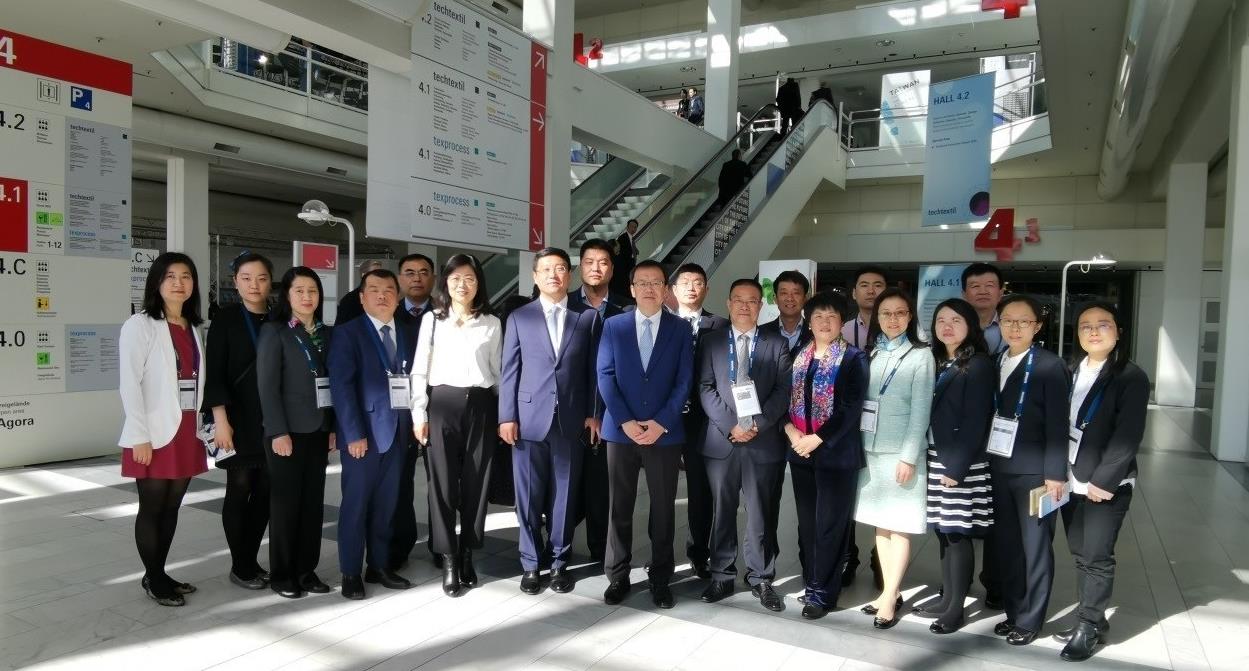 China Industrial Textile Industry Association and China Council for the Promotion of International Trade Textile Industry Branch organized exhibitors and visiting groups from the Chinese industry. On the opening day, Li Lingshen, Vice President of China National Textile and Apparel Council and President of China Industrial Textile Industry Association, Liang Pengcheng, Vice President of Textile Industry Branch of China Council for the Promotion of International Trade, Li Guimei, Vice President of China Industrial Textile Industry Association, China International Trade Xie Bing, Deputy Secretary-General of the Textile Industry Branch of the Promotion Committee, and Oriental International Group, Beijing Fashion Holdings, Hengtian Fiber Group, Shanghai New Textile, Beijing Qinghe Sanmao Group, Beijing Jinglan Nonwovens, Hengtian China Fiber, Delegations from Jiangsu Shengfang, Tongri Group, and Suzhou Naide visited the exhibition site.
This year's exhibition centered on the theme of "urban life" and set up a textile innovation zone for future urban life, while paying great attention to the sustainable development of the industry. The two exhibitions on the same stage brought the world's latest relevant technological research and development results to the audience, and covered the application of textiles in all application fields, forming a more obvious collaborative innovation and communication effect in the global textile industry.
Techtextil2019: Aiming at the future of urban life, covering new applications in all fields, establishing an open exchange forum
Techtextil2019, as the leading professional trade show in the global industrial textile industry, this year's theme is "Urban Life-City of the Future". It will provide more textile solutions around future urban life, showcase related application results and cases, and bring The latest international industrial and non-woven technologies, products, and applications in related fields show how industrial textiles can shape urban life to a global audience from multiple fields.
Techtextil's product group represents almost the entire value chain in the field of technical textiles. The exhibits this year include: technology, technology, accessories; fibers and yarns; woven fabrics, mesh fabrics, woven fabrics, knitted fabrics; coated textiles; composite materials; functional clothing textiles; and various non-woven materials and products Wait.
After viewing the exhibition, President Li Lingshen said that this exhibition showcased the full range of applications of industrial textiles, looked forward to how industrial textiles will shape urban life in the future, and portray the future of the world's industrial industries. In particular, high-tech textile application technologies in the fields of smart textiles, construction and civil engineering, automobiles, medical treatment, sports, and danger protection appeared at the exhibition. The number of suppliers in the fields of technology, fibers and yarns at this exhibition has increased significantly; suppliers of woven fabrics, coated fabrics and functional clothing fabrics also exhibited strongly, covering all application fields of textile materials.
According to a study by the United Nations Department of Economic and Social Affairs, by 2050, almost 70% of the world's population will live in metropolises, which brings new challenges to the concepts of life and mobility, food supply, and health services. . Functional clothing, such as smart clothing, will play a more important role in people's daily lives in the future.
Techtextil2019 cooperated with the Dutch creative industry agency "Creative Holland" to create a wonderful "future" of more than 500 square meters for the life of the future city through the special event "City Life-City of the Future" The exhibition space expresses the idea of ​​improving people's lifestyle in the urban environment today and attracts the attention of the audience.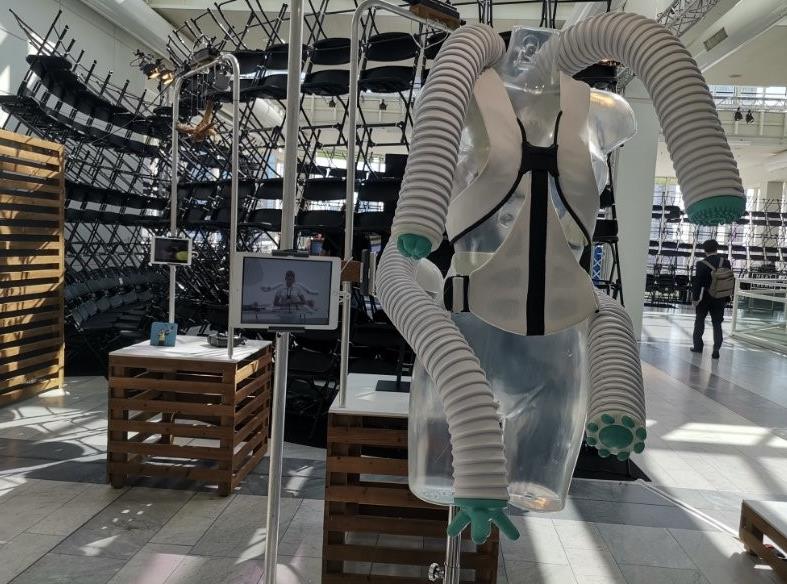 Textiles in the city of the future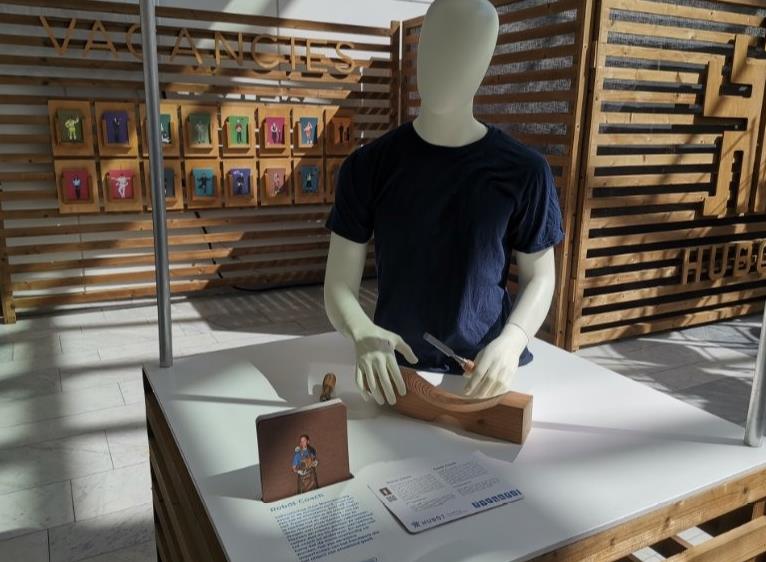 Textiles in the city of the future
One: 3D printing of human organs is getting closer and closer to reality, and we can already start designing human organs as needed. As an organ designer, develop a genetic algorithm to form an organ that fits perfectly with the recipient's body, while also satisfying the patient's personal preferences. From artificial livers or heart valves to organs that communicate with dolphins. As long as you imagine it, you can design it.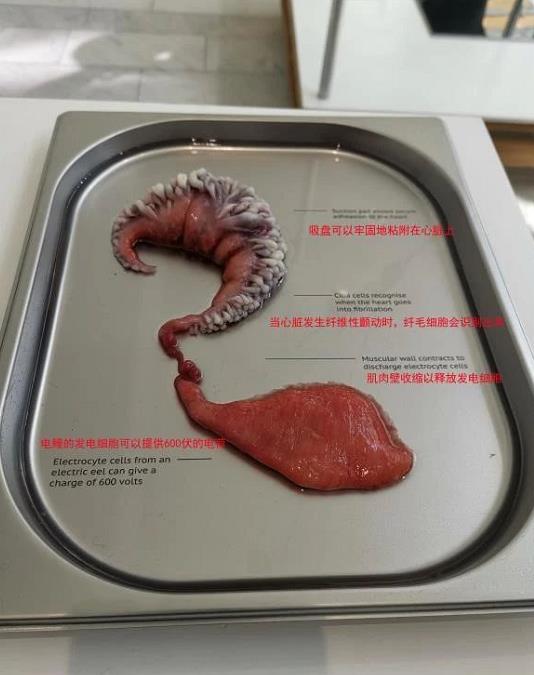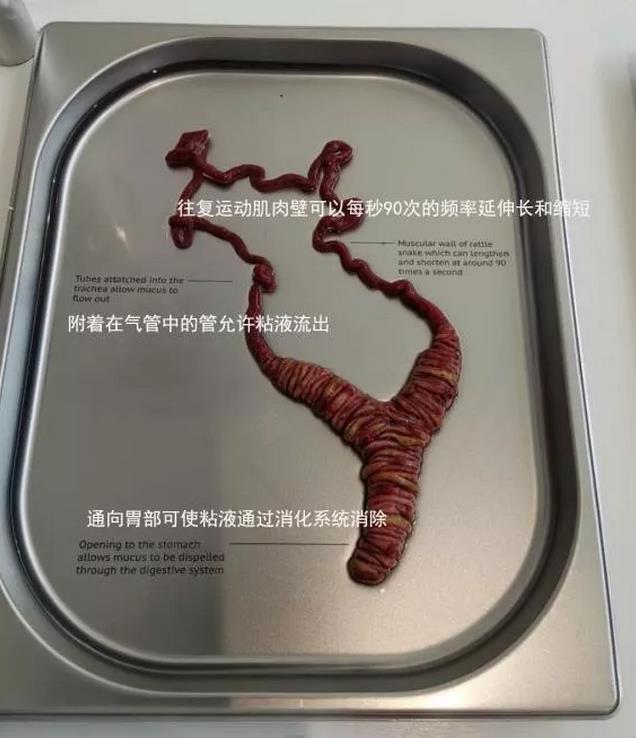 3D printing of human organs
Second: To ensure the safety of air traffic, it is necessary to ensure that birds stay away from the airport. By intimidating and forcing birds away from aircraft engines, both passengers and birds will be able to ensure safety during take-off and landing of the aircraft.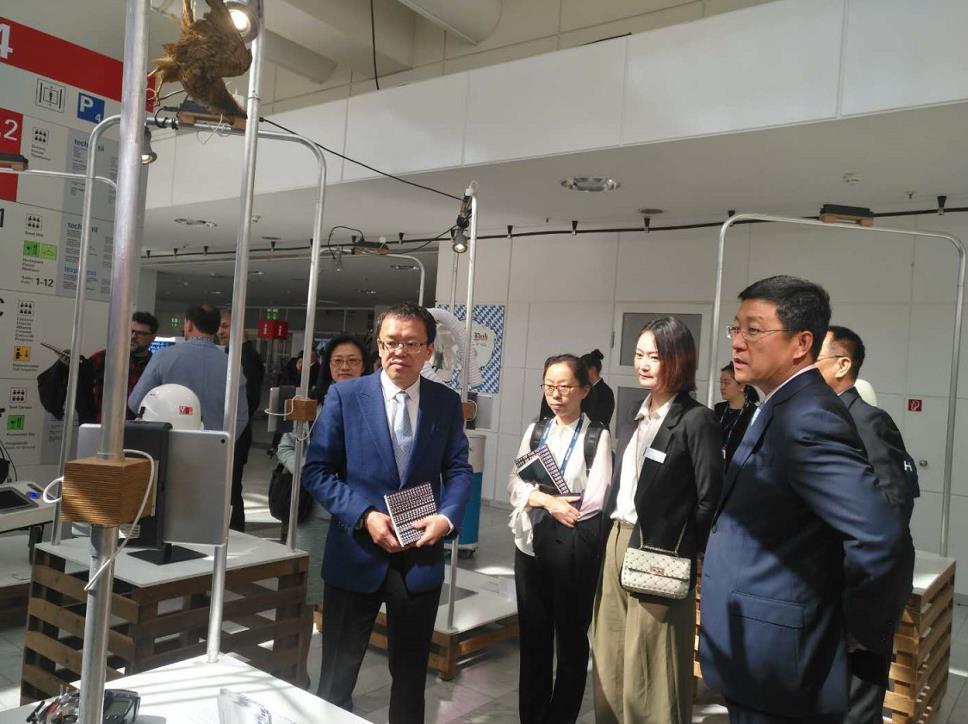 Third: Usually, maintenance workers often need to read the technical manual of the equipment to be repaired. This is their least favorite part of the job. This situation is gone forever! There is a translucent augmented reality screen on your helmet. The maintenance plan will be immediately projected on the screen during maintenance, and human-computer interaction will be carried out with the projected information during maintenance.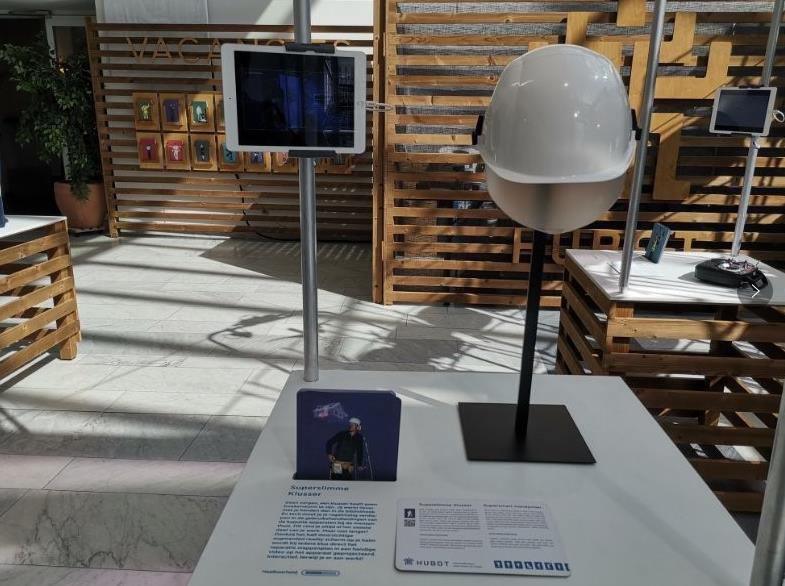 Helmet with translucent screen
Olaf Schmidt, Vice President of Textiles and Textile Technology at Messe Frankfurt, said: "Every two years, Techtextil will bring the latest applications in the field of textile materials. Top international experts from the fields of construction, automotive, healthcare, fashion, personal protection, etc. will gather Here, we will discuss together lightweight, durable and sustainable materials." The
2019 Techtextil Innovation Award was awarded on the first day of the exhibition, commending outstanding new technologies and developments in the fields of technical textiles, nonwovens and functional apparel fabrics. The winners were selected by a jury composed of experts from all over the world, and the exhibition also set up a special exhibition area to showcase their work. It is reported that this is the 15th award of the award.
For example (1): "Textile mining" uses functional textiles to recover high-value precious metals or rare metals from waste and wastewater will gradually become popular in the next few years. In this case, a big challenge is to identify potentially available secondary resources and develop low-cost processes to selectively separate and recover metals. Now a textile-based adsorbent material has been innovatively developed, which can selectively enrich and recover precious metals from industrial wastewater. This is achieved by finishing the textile substrate. The innovative textile is composed of inexpensive materials and can be mass-produced by using typical machinery from the textile finishing process. A recent project successfully recycled textiles worth about 1,000 Euros, while the consumed textiles themselves cost only a few Euros.
For example (2): Cork yarn-new biodegradable cork yarns are currently in growing demand for new textile solutions, especially in the field of ecological design and sustainable development. Researchers are thinking about how to go beyond the use in clothing and home textiles Cork material. The "Cork-a-Tex" project is to develop textile substrates for cork waste, that is, used cork stoppers, old cork products, etc. Finally, an innovative high-performance yarn processed from cotton and cork waste is obtained, and at the same time it combines the characteristics of the textile base material to achieve the comfort, touch and appearance level, as well as the natural warmth and elasticity of the cork.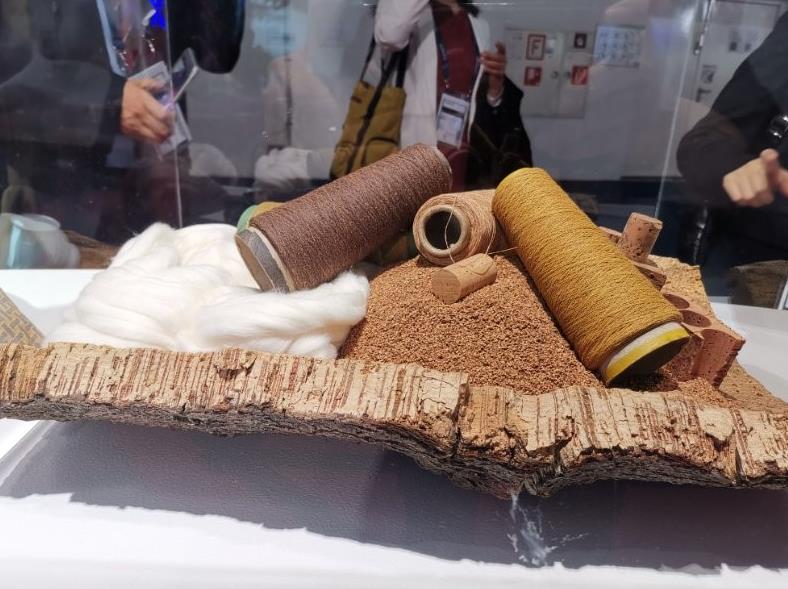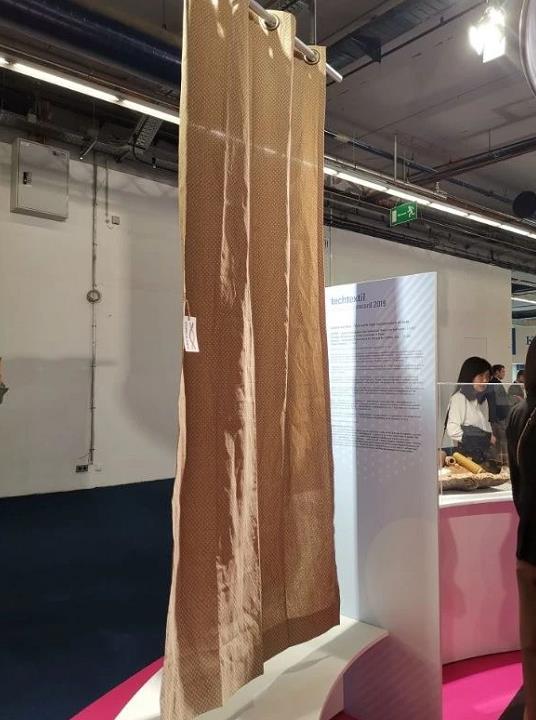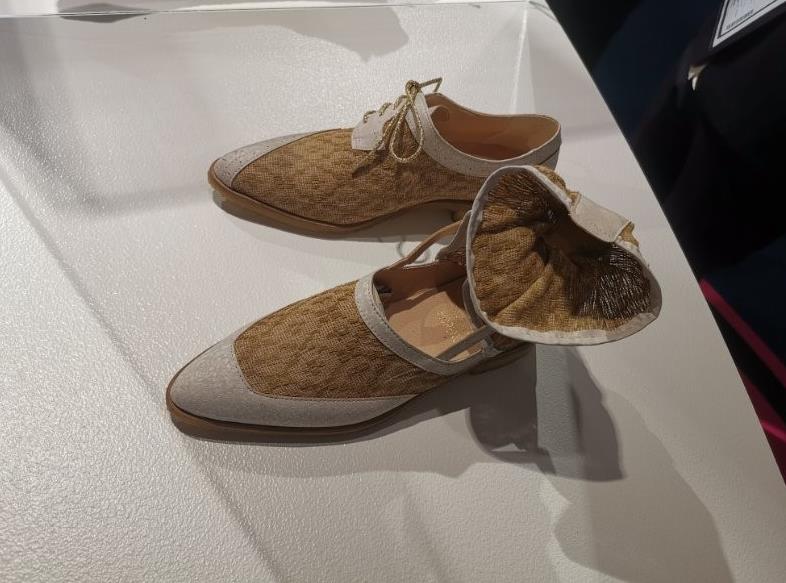 Cork yarn and products
During the 4-day exhibition, TechTextil2019 will be freely open to all professional visitors in the forum area of ​​Hall 4.1. The forum includes sustainability, digital transformation, smart textiles, urban textiles, composite materials, and industrial textiles used in the medical field. And other diverse topics, so that the audience can join the report of interest at any time. It is more flexible to build interactive ideas and information exchanges between exhibitors and professional visitors, as well as between researchers, developers and users.
Chinese industry: actively participating in "Going Global" and actively promoting "Global Link"
It is reported that this exhibition has 111 exhibitors from China, covering raw materials, equipment and accessories, various industrial textiles, non-woven fabrics and their products. During the exhibition, President Li Lingshen visited Jiangsu Hengli, Hilide, Yufu, Yantai Taihe, Bright, Tongyizhong, Hengtian Heavy Industry, Jiangsu Yingyang, Jinda, Daya, Watson Technology, Jinyou Fluorine, Texas Huayuan, and many domestic and foreign exhibitors such as ANDRITZ, Autofa, Karl Mayer.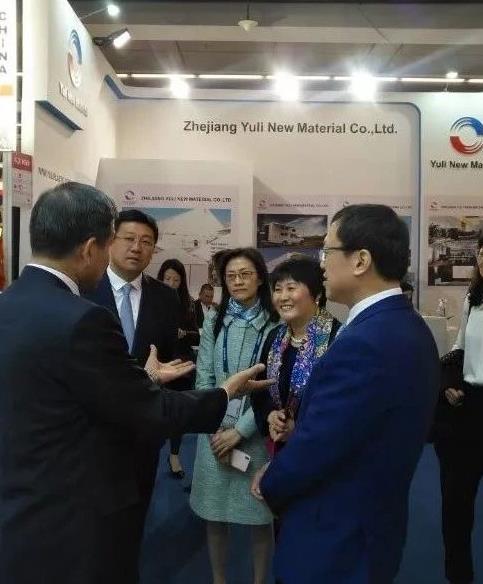 Yantai Taihe New Material Co., Ltd.
Chairman Li communicated with Taihe Chairman Sun Maojian at the booth of Yantai Taihe New Materials Co., Ltd. on the exhibition, product innovation, and aramid development trends.
Shaanxi Yuanfeng Textile Technology Research Co., Ltd. has participated in consecutive sessions. In this exhibition, Yuanfeng Company not only displayed conventional products in the fields of military, police, fire protection, petrochemical, etc., but also focused on displaying innovative products such as new arc-proof fabrics, high-voltage live clothing fabrics and Petro-V in the petrochemical field. The new type of arc-proof fabric has light weight, high ATPV and EBT values, and all indicators are better than similar products in the current market. It is suitable for electric workers who are often exposed to instantaneous arc conditions; high-voltage live work clothing fabrics have high shielding and low resistance The electrical characteristics and excellent performance of permanent flame retardant can meet the requirements of 750kV live operation; Petro-V series products have good thermal stability, because they use intrinsic flame-retardant fibers, they have excellent wearing comfort performance and good cost performance. The company will use the exhibition to vigorously expand emerging markets, continue to expand the layout of foreign high-end markets, vigorously promote global business cooperation in Europe, Asia-Pacific, Africa, Australia, etc., and continue to play its professional advantages and technological leadership in the field of safety protection textiles.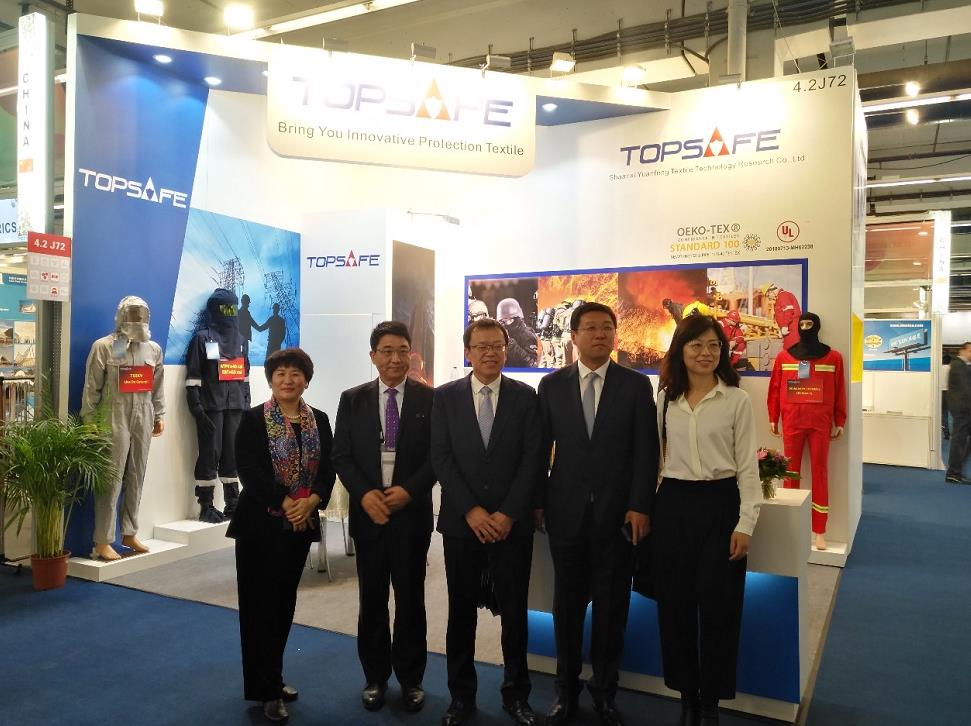 Shaanxi Yuanfeng Textile Technology Research Co., Ltd.
Shanghai Shenda Kobond New Material Co., Ltd. (Kobond) was invested and established by Shenda Co., Ltd. (stock code: 600626) in June 2002. It is a large-scale manufacturing enterprise specializing in the production and sales of flexible composite materials. The company can produce various coating products with a width of 3.5 meters, such as light box cloth, tarpaulin, geotextile, waterproof material, inflatable material, etc., which are made of PVC, TPO, TPU, etc., which are widely used in water conservancy, national defense, Construction, transportation, home and many other fields. The designed annual output is about 30 million square meters. At the same time, the company has newly installed the most advanced blade scraping assembly line in Europe, which has enriched the types of products, greatly improved the production efficiency of products and the company's operational capabilities, and laid a solid foundation for the company's long-term development.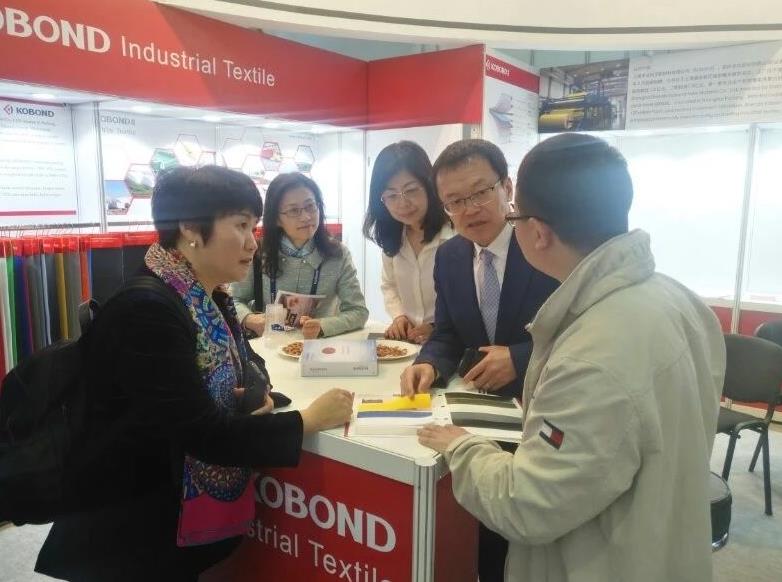 Shanghai Shenda Kebao New Material Co., Ltd.
China Textile New Material Technology Co., Ltd. brings a series of functional coatings and composite textile products such as soft oil/water bladder composite fabrics, marine life-saving fabrics, TPU composite ultra-high molecular weight polyethylene fabrics, nano superhydrophobic fabrics, and other composite textile products once again at Techtextil 2019. According to reports, the nano-superhydrophobic fabric is treated with nano-materials to form a bionic lotus leaf effect, which has excellent non-stick effects on cola, milk, heavy rain, and high-temperature water. Umbrellas made of this fabric are small and exquisite. They block the rain in the first second and receive the bag in the next second. It truly does not leave any drops of water. Saying goodbye to the embarrassment of wet rain, water-free, worry-free and convenient travel. It also has sunshade performance. Effectively block 99% of ultraviolet rays. Widely popular in the domestic market and the Japanese market. Through the screening of TPU, adhesives, auxiliaries and other materials and the systematic research on the bonding and composite technology between the substrate and the membrane material, the company has formed the core technology for the high-strength combination of textiles and airtight membrane materials. High-performance air-tight composite materials for inflatable life jackets with strong adhesion, high gas blast resistance, high air tightness, seawater immersion resistance, and good aging resistance have been developed, and they have passed the ISO12402-7 test. For many years, we have provided qualified fabrics for our navy life jackets.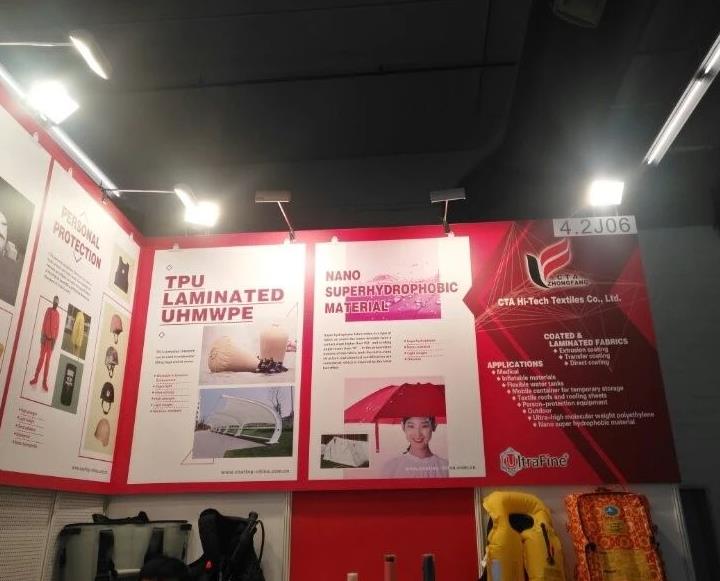 China Textile New Material Technology Co., Ltd.
Changshu Baofeng Special Fiber Co., Ltd. is a professional company that develops and produces safety protection textiles, providing comprehensive safety protection for workers in special environments. With an advanced and evolving product development plan, it uses many technical fibers to develop customized inherent FR solutions for end users. This includes comprehensive surface treatment, oil and water resistance, chemical resistance, anti-mosquito, anti-UV, antibacterial, infrared, Fully waterproof laminate, membrane, PTFE and PU etc. The company is committed to the research and development of safety and protective clothing accessories, equipped with completely independent production lines, and introducing international advanced level equipment and instruments. The product series are rich, mainly used in fire fighting, petrochemical, ordnance, emergency rescue, military, electric power and other fields, and are sold all over the world.
Beijing Tongyizhong New Material Technology Co., Ltd., as an ISO 9001:2008 and GJB9001B:2009 certified company designated by the Chinese Army and Navy, has focused on the HMPE fiber industry for more than 20 years. There are more than 40 kinds of commercial HMPE fibers for different applications. Including cut resistant gloves, textiles, ballistic UD boards, knitting, etc. The rope of the same diameter and linear density made of the company's TM32 1600D HMPE fiber has been verified by the Chinese Navy and one of the large-scale rope manufacturers in China. The capacity of HMPE fiber is 3000 tons per year. HMPE fiber is exported to more than 70 countries and regions in the world, including the European Union, the United States, Asia and Africa.
Zhejiang Deweide Environmental Protection Technology Co., Ltd. specializes in the production of needle punched nonwovens. It has more than 30 years of nonwovens production management experience, an excellent team of technical personnel and a complete scientific quality management system. The company has a number of imported equipment from Germany, 120 sets of various looms, 5 needle-punched nonwoven production lines, singeing, hot rolling, dipping, drying, coating and other post-processing equipment. The company can produce a series of high-performance non-woven fabrics, including high-temperature carbon/pre-oxygenated silk felt, American Kevlar/Nomax/PBI felt, Japanese PBO fiber felt, pure natural pollution-free and degradable hemp felt, high-strength anti-stab Cloth, thermal insulation basalt/glass fiber felt and stainless steel fiber felt, etc. By maintaining long-term communication and cooperation with customers, the company designs and manufactures a series of high-quality products and provides customized solutions. Products are widely used in labor protection products, construction, industry, agriculture, automobiles, ships, motor vehicles and other industries.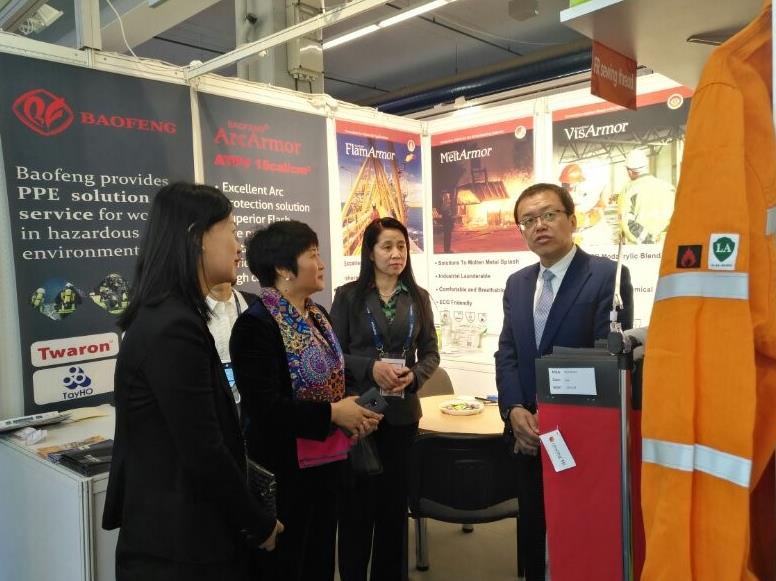 Chang Shu City Baofeng Special Fiber Co., Ltd.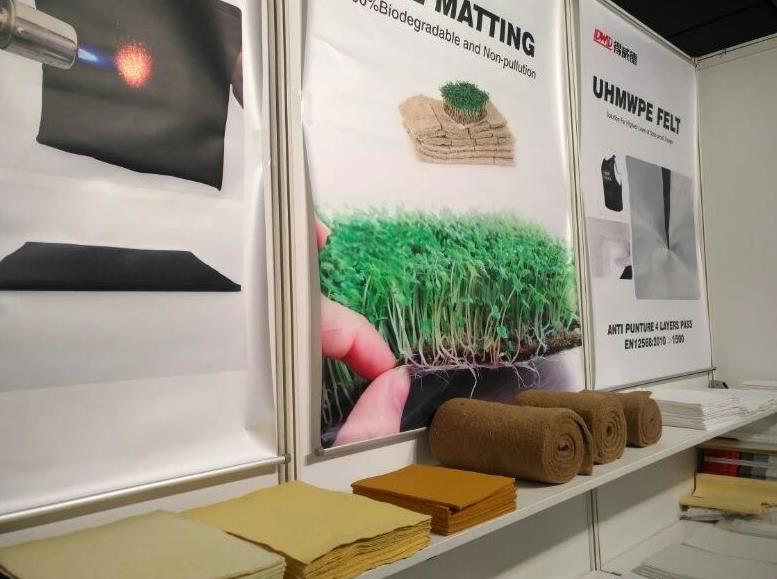 Zhejiang Deweide Environmental Protection Technology Co., Ltd.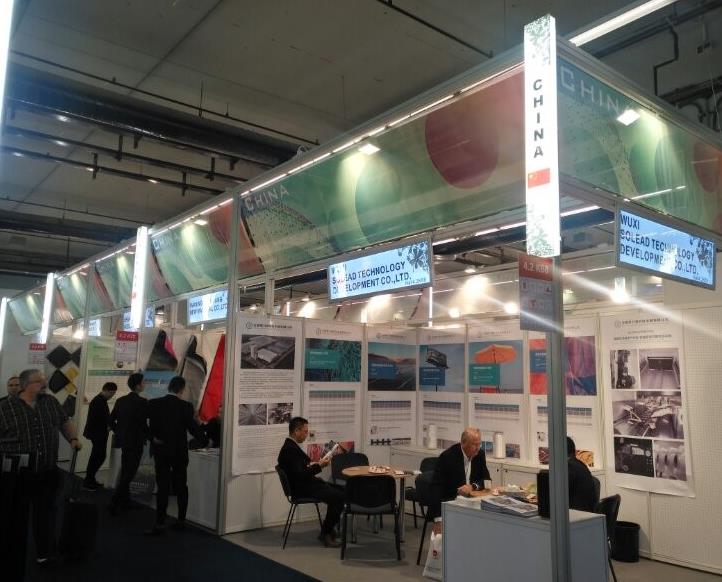 China Pavilion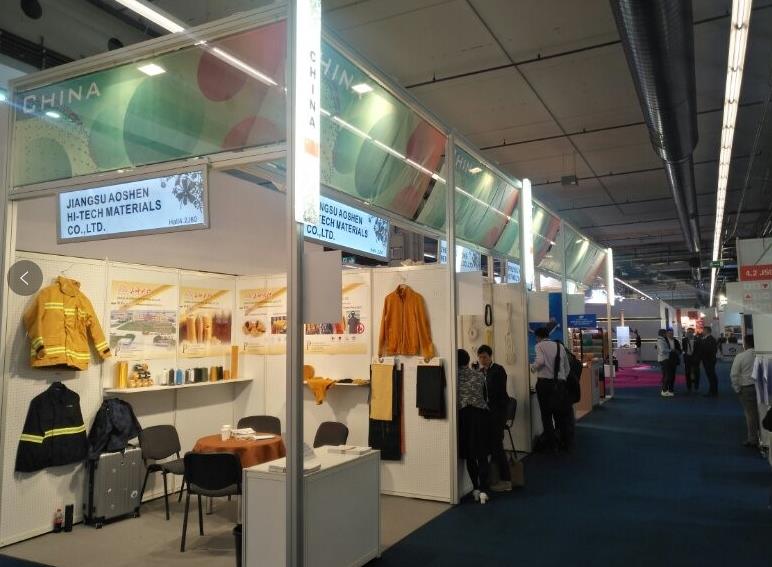 China Pavilion
During the exhibition, on May 14th, Li Lingshen, vice chairman of China Textile Federation and chairman of the China Industry Association, and Liang Pengcheng, vice chairman of the Textile Council for the Promotion of International Trade, etc., represented China at the World Industrial Textile Association chairman meeting. Chaired by Mr Detlef Braun, member of the Frankfurt board of directors. Also attending the meeting were industry association presidents from Brazil, Germany, Switzerland, South Korea, Turkey, Italy, Portugal and other countries.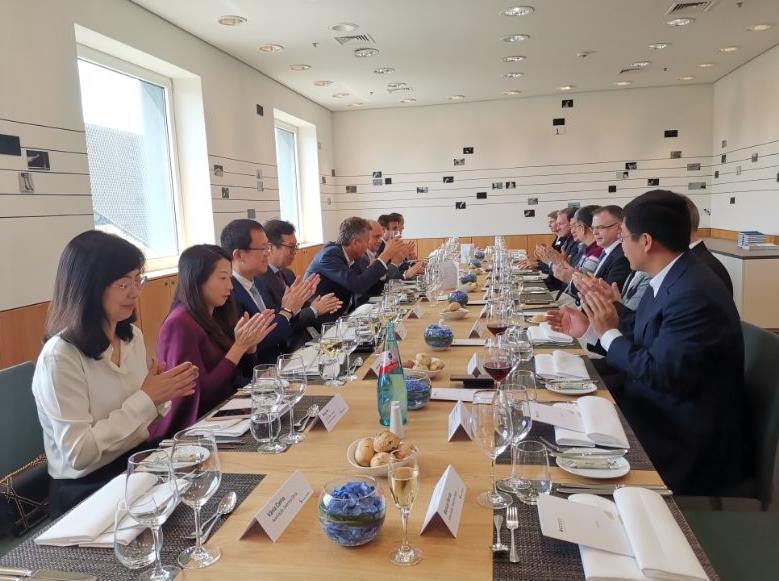 Conference of Presidents of the World Industrial Textile Association
On May 15th, Chairman Li and his entourage held a meeting with Olaf Schmidt, Vice President of Textiles and Textile Technology of Messe Frankfurt and others. The two sides discussed the situation of this exhibition, the China International Nonwovens Exhibition and High-end Forum to be held in Shanghai, China in June, and the China International Industrial Textiles and Nonwovens Exhibition to be held next year.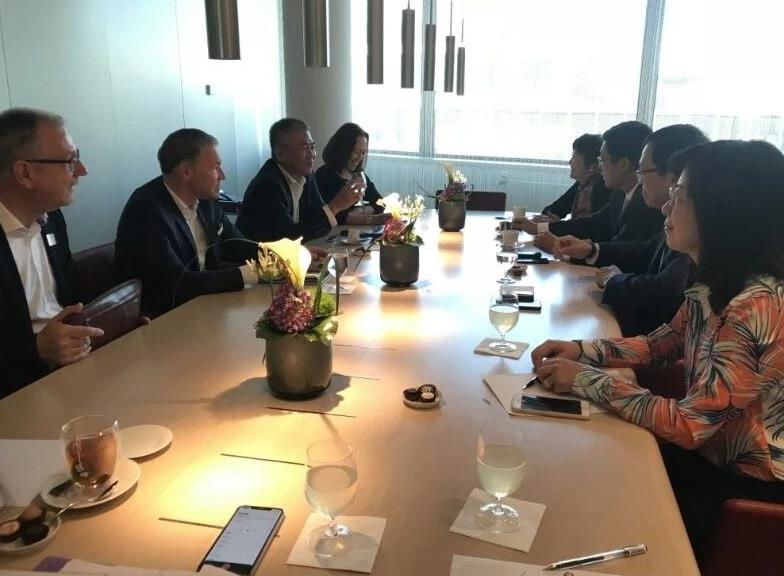 Meeting with Frankfurt Messe
Texprocess2019: Focus on sustainable development and build a mixed display area
Texprocess, as the world's most important trade fair for textile and flexible material processing, exhibits covering all cutting-edge technologies in textile and garment processing technology.
Sustainability is the core theme of the two exhibitions Techtextil and Texprocess this year. For the first time this year, the two exhibitions jointly demonstrated exhibitors' efforts in sustainability. Not only does the 2019 Techtextil Innovation Award include award-winning projects for sustainable textile innovation and processing methods, in addition, the Texprocess Forum also sets up a special section to discuss the topic of sustainability in the textile and fashion industry.
4.1 The two exhibition halls of the exhibition hall comprehensively display the advanced textile supply chain production process from raw materials to finished products. There are digital micro-factories at Texprocess exhibition and functional textiles and clothing at Techtextil exhibition. The "Digital Textile Micro Factory" exhibition area is supported by the German Textile Fiber Research Institute. It displays 3 production lines consisting of fashion, 3D knitted shoe uppers, and industrial textiles. The comprehensive textile production and supply chain can be seen here.
Techtextil and Texprocess were exhibited in the same place at the same time, forming a good synergy effect. The exhibition provides high-tech textile solutions for a full range of textile applications in many fields, becoming the most extensive and internationally influential professional exhibition in this field.
Scan the QR code to read on your phone